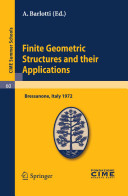 Finite geometric structures and their applications: lectures given at the Centro Internazionale Matematico Estivo (C.I.M.E.), held in Bressanone (Bolzano), Italy, June 18-27, 1972 /
Saved in:
Bibliographic Details
Main Author:
Other Authors:
Format:

Book

Language:
English
German
Published:

Berlin :

Springer-Verlag,

2011.



Subjects:
Tags:
Add Tag

No Tags, Be the first to tag this record!
Department of Mathematics: Unknown
Holdings details from Department of Mathematics: Unknown
Call Number:
519.145 BAR

Copy 1

Available

Place a Hold